Description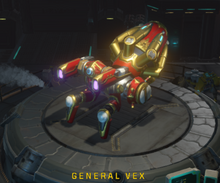 Biographie
There are very few "old" families on Europa. The original human settlers claim a legacy of only a few generations, and many of those who survived the initial migration were killed brutally by the Kavash on K-Day. Of the few powerful bloodlines that remain, the House of Swords is perhaps the most respected: its members are descended from the Dr. Abasi Sefu, one of the first scientists to arrive on the planet and who worked on the early stages of Drauger's Core project.
General Vex is the granddaughter of Abasi Sefu. She was groomed from birth to take her mother's place as the head of the House of Swords and lead the Europan timocracy (a property-based plutocracy) into the next age. She knows no other life than the world of scientific one-upmanship and political deceit that is the new Europan high society. At the age of eighteen, General Vex joined the Europan security forces, which was a largely ceremonial military (that was all Drauger would allow), known more for its pageantry than its effectiveness in battle.
Although she has never set foot on Europa. General Vex insists that she is royalty and that her kin will retake the planet. Unfortunately, the only way to fight the Kavash—and the rogue Core hunters—is to ally with the Exiles, a group of Europan rebels from a lower, reviled social caste. But she has no choice... and it rankles her greatly. Underneath her proper, regal exterior, General Vex has a cruel and bitter nature.
Default Loadout
Ultimate
Omnipresence
Software
Type
Icon
Description
Class

Sensor

Propulsion
Progress
Level
Blueprint
Level
Blueprint

Plas

Leve

Blueprint

1
- - -
6
Summoner's Husk
11
Emissive Controller
2
Inhibitor Field
7
Slingshot Boosters
12
Intelligence Grid
3
Alpha Phage
8
Gravity Gun
13
Quantum Leap
4
Null Field
9
Evoker's Web
14
Skylance
5
Velocity Ramp
10
Laser Lens
15
Plasma Drone
Strategy
N/A
Reference
N/A